So admittedly, I did say this was a blog to follow my progress and the current competitive scene for the Pokemon TCG, but I don't have any TCG articles ready to go, or any events to look back at. So what I'm going to do instead is talk about other Nerd Stuff for anywhere from 1000 words up, and then link to a delightful article about the state of the Australian TCG Community, as written by the lovely James Goering.
We cool? Yeah, we cool.
-/- 
Part I: Kojima and Me

I love Metal Gear Solid, to an almost, unhealthy degree.
I have watched and re-watched big, half hour long and more videos, analysing the series from its simple, 8-Bit, moustache twirling super-villain, action movie roots all the way through to the last true Metal Gear Game, Metal Gear Solid V: The Phantom Pain, skipping a beat for MGS4 and the PSP/Vita Games, Portable Ops and Peace Walker.
Just to understand the scope of it all, that is 8 videos, all discussing the themes, game design and the timeline of the Metal Gear games across 28 Years of absolute insanity, that started fairly simply, with a story about a Rookie Soldier tasked with infiltrating the stronghold of a Traitorous Armed Forces General to assess and destroy a rumoured Walking, nuclear tank, (The titular Metal Gear) and ended with an unsatisfying, butchered final instalment, that while doing some things right, ultimately left me feeling burned, tired and wondering just where the rest of the story went.
These videos are not short. They are, for the most part, not easily digested and they are densely packed with analysis of the games, both within the game itself, and outside of the game, about the ideas and motivations of Kojima himself. (The MGS2 video especially, due to the Post-Modernism inherent in the way Kojima told that particular story.)
Post-Modernism is Weird
I have watched these videos at least 10 times each, with the exception of the MGSV one which has only been out for a week, (But I have, again, rewatched more than a few times) and I find myself discovering a new idea, a new thought or concept with every re-watch.
Which I absolutely love, because I've been playing these games for 12 years now, having picked up MGS2 on the cheap before moving along to a rental MGS3 before it fixed its camera, and then piecing everything together after the purchase of Subsistance and a 2008 pick up of MGS1 before the launch of MGS4.
The videos help me contextualize and connect half formed ideas that have been sitting in my head for more than half a decade now. To look at things I thought I knew from a new perspective, or to add new ideas that enhance the things I knew.
And mostly, to help me well and truly catalogue just, exactly, what the ridiculous Auteur Games Designer, Hideo Kojima, is trying to tell me through his balls-to-the-walls insanity.
This is where usually I'd say, "Oh Japan." But Koji defies and exceeds the simple insanity of his home country, to become a whole new level of insanity, unto himself.
Over 28 years, Kojima has taken what was supposed to be a stand-alone, simple action game and expanded the game's lore, story and characters through insane AI controlling the world with Magic Nanomachines and a rich, thriving war economy, way back to meowing Russian cowboys and a man who shoots bees out of his mouth and circling all the way round to a Nuclear equipped military base that is, ultimately, a recreation of an event that completely cemented the legacy of the legendary hero, Solid Snake, complete with a Flamboyant Vampire, a Roller Skating Wine and Bomb Enthusiast and a woman carrying a gun that should, by all rights, be breaking her back every time she fires the damn thing. Also, she's got magical bullet bending powers, but not really. Its just a nifty piece of technology the bad guys snuck into her Stupid Gun, to give off the illusion of magical bullet bending powers
But pants, apparently, were not in the Budget
Kojima does not believe in brevity. Kojima also wanted to end this series 13 years ago. And then again 11 years ago, he claimed the series was wrapping up, with a prequel game.
He repeated the sentiment again in 2007, just before Metal Gear Solid 4 was released before, finally, being allowed to step away from the series and move onto new things in 2015, after being released from his contract with Konami.
The exhaustion that kept Kojima almost pleading with fans, to just let him move away to something else, is tangible in every game after Metal Gear Solid 3. But at the same time, rushes of new ideas happened, and Kojima continued to expand his universe of wacky Techno-Magic and Cloned Super Soldiers…
Holy shit. I've been playing the Star Wars Prequels this whole time…
Part II: Charisma in Metal Gear Solid 
Metal Gear Solid has more than its fair share of problems in terms of writing and direction. A lot of the time Kojima has issues with getting to the point, throwing so much exposition in your face, that eventually you will start zoning out. It was the biggest problem I (And a lot of others) had with Metal Gear Solid 4. It had so much to tell you, that its cutscenes actually ran out of things to show you, so it cut away to slideshows instead.
Regardless of this, every single game is full of characters absolutely oozing with charisma, charm and so many shades of grey, its damn  near impossible to cast someone as straight up "Evil".
Except Colonel Volgin and Huey Emmerich. They are pretty easy to cast as "Legitimately Evil Characters."
Story arcs so rich and detailed that they resonate throughout not only the Metal Gear characters, but throughout all of fiction.
Speaking of…
Part III: Steven Universe
These are the characters of the Cartoon Network show, Steven Universe. From the center, circling clockwise, you have main character Steven and his main supporting cast, Amethyst, Garnet and Pearl respectively.
Steven Universe runs in the same vein as equally popular kids show, Adventure Time, in that it takes what seems like a basic kid's show about Magical Powers and Magic Fights while weaving in darker themes and narrative tone throughout entire seasons.
Tonally, its about as far from Metal Gear as you can get… Or at least, you'd think that, if I had not spelled out exactly what this article was about in the first place.
While some of the matches are not exact, a lot of them a close enough to raise an eyebrow.
At the same time though, not everyone matches up with someone. I still have not been able to find series equivalents for Amethyst or Garnet, or some of the more prominent supporting cast, but I've matched enough that it, as far as I was concerned, merited a blog-post dedicated to the over- thinking of Children's cartoons.
Part IV: Rose Quartz as The Boss Pt.I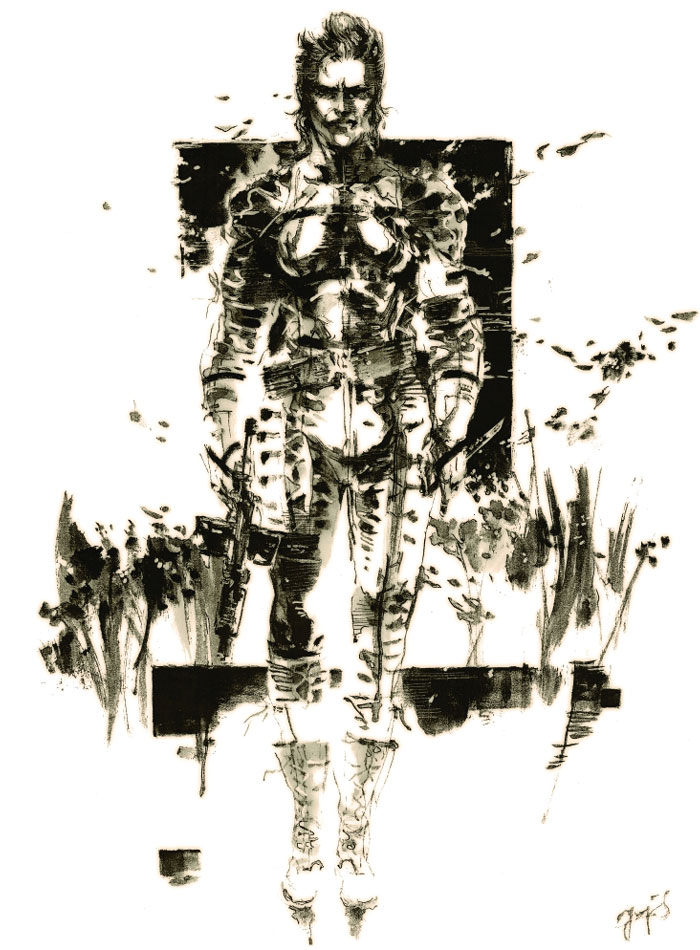 The story of the Metal Gear universe begins and ends with the life and death of The Boss. Leader of the Cobra Unit during World War II, The Boss (Known at the time by the codename 'The Joy') led more than several suicide missions alongside her team and participated in, and were integral to, the D-Day Invasion at Normandy.
After the war ended, the Cobras went their separate ways, having all hailed from different countries, The Joy (Now, The Boss, having earned the title for her efforts in the war) returned to her home, the United States of America, where she went on to become a nuclear test subject, and then a test pilot for space shuttles and, even though it was never documented, was the first person to break through the atmosphere, and drift through the black of space.
"The government wanted human data. So they secretly decided to send a human being into space. I was the one they chose. At the time they didn't have the technology to block out cosmic rays and whoever they sent up would inevitably be exposed to heavy radiation. That's why they chose me"
-The Boss, Metal Gear Solid 3
Sometime latter, she heard of an up and coming Soldier, and felt drawn to him, both because of his purported prowess as a Soldier and as a fellow Nuclear Test Subject.
She would later go on to dub him, Snake. Her first and last student. The man who would eventually kill her.
In 1964, Snake was sent on a mission into Russia to extract a defecting Soviet Scientist, while successful in making contact with the scientist, Snake was intercepted by the Ruthless Colonel Volgin, a GRU Soldier with a reputation of brutality. Volgin was shortly joined by The Boss, who then announced her defection to The Soviet Union, or, more specifically, Volgin's GRU, and after reacquiring the Scientist and almost killing Snake, The Boss, alongside her old team. The now reformed Cobra Unit.
However, when Volgin used a Nuclear Warhead that The Boss had gifted to kill people in his own country, President Khrushchev demanded the US prove their innocence in the affair.
He demanded The Boss' death.
After killing the Cobras, after fighting his way through Volgin and his GRU, Snake once again came face-to-face with The Boss, for the last time.
The Boss talked of her dreams, of her views on the world and how petty things such as sides were in this world.
During World War I, America and Russia had fought side by side, as allies and during World War II they fought for a common goal. Now, in 1964, they were the most bitter of enemies, locked in a Cold War of Nuclear Deterrence and posturing.
That's when it finally hit me. Space exploration is nothing but another game in the power struggle between the US and USSR. Politics, economics, the arms race – they're all just arenas for meaningless competition. I'm sure you can see that. But the Earth itself has no boundaries. No East, No West, No Cold War. And the irony of it is, the United States and the Soviet Union are spending billions on their space programs
and the missile race only to arrive at the same conclusion.
In the 21st century everyone will be able to see that we are all just
inhabitants of a little celestial body called Earth.
A world without communism and capitalism… that is the world I wanted to see. But reality continued to betray me.
-The Boss, Metal Gear Solid 3

The Boss and Snake fight. Snake proves superior, finally surpassing his teacher in the most tragic of ways. The Boss lies dying on the ground, and instead of cursing him, or the cycle of pain and torment she espoused vicious derision of earlier, she hands you her gun, compliments you with a smile and then, finally, demands you kill her.
Jack… or should I say Snake… you're a wonderful man. Kill me now. There's only room for one snake and one boss.
-The Boss, Metal Gear Solid 3
Tragic as it may be, The Boss was a traitor. The Boss needed to die to avert Nuclear War between the US and the USSR. Snake walks away, solemn, yet triumphant. He has done the right thing.
Except, he hasn't. The Boss wasn't a traitor, she had been ordered to pretend to defect to Volgin's side, to locate and identify a hidden fortune that had been amassed during World War I.
When Volgin launched the Nuke, she was given her final mission, her last orders.
Die for your country. To avoid Nuclear catastrophe, you will die at the hands of your beloved student, and, in doing so, you will save the world.
And that's why she told me. Snake, history will ever know what she did. No one will ever learn the truth.
Her story… her debriefing, will endure only in your heart.
Everything she did, she did for her country. She sacrificed her life and honour for her native land. She was a real hero. She was a true patriot.
-EVA, Metal Gear Solid 3
And that moment on, Snake, now known as a man who is beyond the title of Boss, a man given the title of Big Boss, slowly descends into a life of treachery as he, and those around him, misinterpret and misapply The Boss' will over and over again, until nothing remains from their sins, but the shadow of their failure.
Part V: Rose Quartz as The Boss Pt.II
By an equal measure, Steven Universe also begins and ends with the life and death
of Rose Quartz and her veneration by those around her, and their misinterpretation of her dying will.
Rose Quartz is a Gem, an alien being whose Native Race looked towards subjugating and potentially sterilising the Earth of all non-Gem lifeforms.
Rose Quartz quickly fell in love with the residents of the tiny blue planet, and after 1000 years of Gem occupation on Earth, incited the War of Rebellion.
A fierce warrior, she was often on the front lines, alongside her small team of trusted gems, Pearl, Garnet and, later on, Amethyst. After potentially hundreds of years of war, the Gem Home World abandoned the Earth as a bad memory and Rose, alongside her 3 friends, remained as the only Gems left on the planet and as Earth's lone guardians against any future Gem incursions.
A few thousand years later, Rose and her team, under the name The Crystal Gems, were living in a small ocean side town called Beach City, staying separate from the world, almost hidden, until one night, Rose is drawn in by the performance of a musician in the town square, playing to an audience of none.
Regardless, the music hooks Rose and Rose hooks the musician. And that's how Rose Quartz met Greg "Mister" Universe.
You're awfully cute, and I'd really like to play with you, but your life is short and I don't want you to give up on everything you want.
-Rose Quartz, Story for Steven
Both Greg and Rose were awkward in the early stages of their relationship, unsure of how to relate to each other as a human and a gem in a relationship together. It is implied that they eventually got over the awkwardness, and found their groove, Rose Quartz had an announcement to make.
She was pregnant.
To a Gem, pregnancy is not only the bringing of a new life into the world, but in fact the reincarnation of a new one. With the discovery and announcement that she was pregnant, Rose Quartz, Greg and the Crystal Gems had to face the coming idea of a world without Rose.
Even as the others panicked and began grieving, Rose was not only anticipating the birth of her child, she was ecstatic for the day to come. So even though she knew that she would never be able to see her son, she loved him.
Even though to bring him into the world would take her out of it, she loved him with all of her heart.
Isn't it remarkable, Steven? This world is full of so many possibilities. Each living thing has an entirely unique experience. The sights they see, the sounds they hear. The lives they live are so complicated… a-and so simple. I can't wait for you to join them. Steven, we can't both exist. I'm going to become half of you. And I need you to know that every moment you love being yourself, that's me, loving you and loving being you. Because you're going to be something extraordinary. You're going to be a human being
-Rose Quartz, Lion 3: Straight to Video
With her death, Steven Universe comes into the world. A human, wielding the power of Rose Quartz's Gem. Carrying on his mother's legacy.
Greg raises Steven early, but later entrusts him to Pearl, Garnet and Amethyst, so that they can teach him about his heritage and his abilities. But Pearl, who worshipped and idolised Rose, potentially even loved her, saw Steven as something to be protected and shielded from the world he would need to rejoin one day, never teaching him beyond what he needed to be pacified on any given day.
Thereby misinterpreting Rose's dying will.
Part VI: Rose Quartz as the Boss Pt.III

While The Boss is far more grounded than Rose ever was, the parallel's between the two are startling. Both are highly respected female warriors, acting as leaders of a small group of warriors, to fight for the country/planet that they call their own.
Both were Mothers, who for whatever reason, were never able to hold their own children and while Rose does not need to live with that pain, The Boss needs to endure it for at least 19 years before facing down Snake for the final time in Russia.
Both had to turn on the very people they fought with and relied on, Rose in her abandonment of her Home World and incitement of The War of Rebellion and The Boss, when she was ordered to Russia to gun down her former Cobra member, lover and the father of the son she never got to hold, The Sorrow.
After they die, both leave behind a Dying Will, The Boss in the form of her ideology on division of the planet through invisible lines in the sand and Rose, in the form of Steven, her living legacy.
And after both of their deaths, those same said wills are either misinterpreted or mishandled by individuals trying to live up to self-imposed ideal images, of the person they have venerated in their minds.
-/-
Continued at a Later Date, Probably Tomorrow, With
Lapis Lazuli as Grey Fox
-/-
The Link to James Goering's fantastic Article on the State of the Pokemon TCG Community in Australlia
Click Here
The Metal Gear Solid Videos are Produced and Performed by George Weidman, AKA Super Bunnyhop.
For a link to a Playlist of his Videos for Metal Gear 1 through to Metal Gear Solid 3
Click Here
For a link to His Video on Metal Gear Solid V: Ground Zeroes
Click Here
And Finally, for a link to his 35 of Metal Gear Solid V: The Phantom Pain Analysis
Click Here